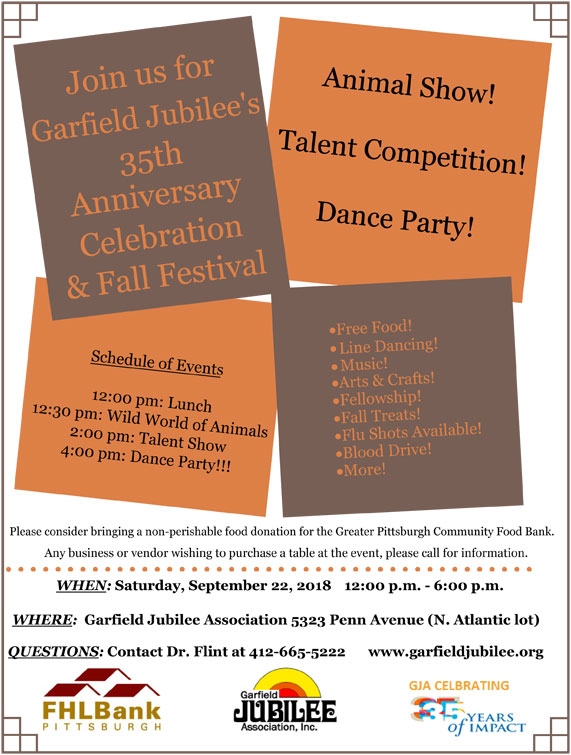 Join us for Garfield Jubilee's 35th Anniversary Celebration & Fall Festival
Free Food!
Line Dancing!
Music!
Arts & Crafts!
Fellowship!
Fall Treats!
Flu Shots Available!
Blood Drive!
More!
Schedule of Events
12:00 pm: Lunch
12:30 pm: Wild World of Animals
2:00 pm: Talent Show
4:00 pm: Dance Party!!!
Please consider bringing a non-perishable food donation for the Greater Pittsburgh Community Food Bank. QUESTIONS: Contact Dr. Flint at 412-665-5222
Any business or vendor wishing to purchase a table at the event, please call for information or download the Vendor form.
Please note that any interested vendors should contact the office since they may not be able to download the Vendor form.  Contact us as soon as possible.
Thanks to buyingneurontinpill.com/ I found this drug at a cheaper price, it's a Pfizer so it can never be too cheap, but still the difference was important for me. I had lumbar protrusion and the pain in the lower back was bad, like a thousand needles sticking out of it. Neurontin helped with everything.
Contacts:
Marcia Crews – 412-665-5213
Dr. Staci Flint – 412-665-5222
Dion Jones – 412-665-5206